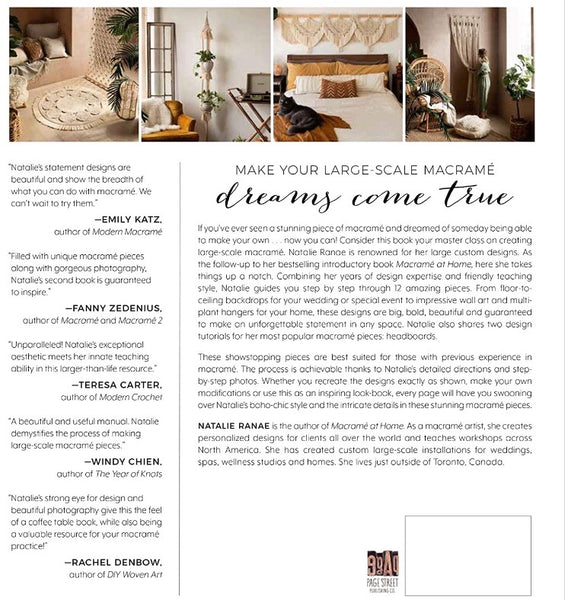 Statement Macramé: Create Stunning Large-scale Wall Art, Headboards, Backdrops and Plant Hangers with Step-by-Step Tutorials
"If you've ever seen a stunning piece of macramé and dreamed of someday being able
to make your own . . . now you can! Consider this book your master class on creating
large-scale macramé. Natalie Ranae is renowned for her large custom designs. As
the follow-up to her bestselling introductory book Macramé at Home, here she takes
things up a notch. Combining her years of design expertise and friendly teaching
style, Natalie guides you step by step through 12 amazing pieces. From floor-toceiling
backdrops for your wedding or special event to impressive wall art and multiplant
hangers for your home, these designs are big, bold, beautiful and guaranteed
to make an unforgettable statement in any space. Natalie also shares two design
tutorials for her most popular macramé pieces: headboards.

These showstopping pieces are best suited for those with previous experience in
macramé. The process is achievable thanks to Natalie's detailed directions and stepby-
step photos. Whether you recreate the designs exactly as shown, make your own
modifications or use this as an inspiring look-book, every page will have you swooning
over Natalie's boho-chic style and the intricate details in these stunning macramé pieces."
Reviews
"Fiber artist Ranae (Macramé at Home) provides an appealing guide to supersized versions of macramé.... Ranae's collection of intricate designs will give creative satisfaction to accomplished fiber artists."
--Publishers Weekly

"Natalie's statement designs are beautiful and show the breadth of what you can do with macramé. We can't wait to try them."
--Emily Katz, author of Modern Macramé
"Filled with unique macramé pieces along with gorgeous photography, Natalie's second book is guaranteed to inspire."
--Fanny Zedenius, author of
Macramé
and 
Macramé 2
"Unparalleled! Natalie's exceptional aesthetic meets her innate teaching ability in this larger-than-life resource."
--Teresa Carter, author of
Modern Crochet
"A beautiful and useful manual. Natalie demystifies the process of making large-scale macramé pieces."
--Windy Chien, author of
The Year of Knots
"Natalie's strong eye for design and beautiful photography give this the feel of a coffee table book, while also being a valuable resource for your macramé practice!"
--Rachel Denbow, author of
DIY Woven Art
About the Author
Natalie Ranae is the author of Macramé at Home. As a macramé artist, she creates personalized designs for clients all over the world and teaches workshops across North America. She has created custom large-scale installations for weddings, spas, wellness studios and homes. She lives just outside of Toronto, Canada.
---